These guys were born the day before Valentine's Day. There are 4 in this litter.
I have a litter from Smith's Kira fostered in here with Susuki's now. I have 2 oranges,1 broken tort,and 1 I'm not sure of that's either a cream or lynx in Susuki's litter and there are 2 frostys and a chinchilla in the fostered litter.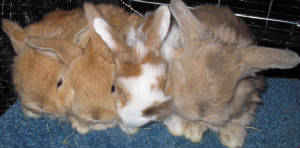 There are 2 oranges,1 broken tort.,and 1 fawn here.
This is the BCLOL's Hope X Smith's Kira litter